The Witcher 3: Wild Hunt GOTY
Product description
The Witcher 3: Wild Hunt is a story-driven, next-generation open world role-playing game, set in a graphically stunning fantasy universe, full of meaningful choices and impactful consequences. In The Witcher, you play as Geralt of Rivia, one of a dying caste of monster hunters, and embark on an epic journey in a war-ravaged world that will inevitably lead you to confront a foe darker than anything humanity has faced so far—the Wild Hunt.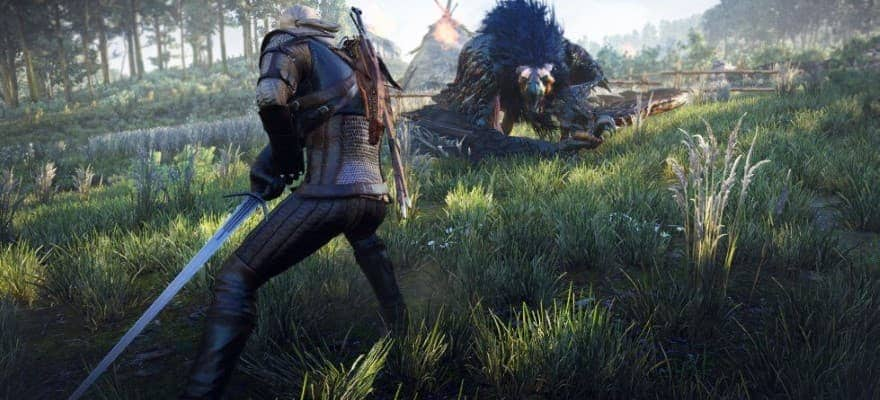 The world burns as the Empire of Nilfgaard pierces through the heart of the kingdoms in the north. Geralt of Rivia is pursued by an enemy devoid of mercy—the Wild Hunt, a mythical cavalcade of ghastly riders, harbingers of doom and destruction, capable of destroying entire settlements overnight. Driven by a deeply personal agenda, Geralt must navigate a maze of hostile forces to find and protect the one described in an ancient prophecy.
Gritty and merciless, the world the adventure plays out in sets new standards in terms of size, ecosystem complexity and meaningful non-linearity. Experience realistic day and night cycles, observe weather changes that influence gameplay, and conquer the lush environment using arcane witcher lore.
Evolve unique witcher skills to tailor gameplay to your liking; hunt bloodthirsty monsters and develop your signature fighting strategies; use potent battle magic, and slay your way to victory in a truly limitless open world. Stroll, swim, ride and sail; embark on legendary quests and collect epic bounties. Take control: go anywhere, do anything!
Blood and Wine
This expansion pack to the core game is set in after events of the main story line. Geralt is contracted by the duchess of Toussaint, Anna Henrietta, to hunt down the monster responsible for killing two of her knights. The expansion pack features a completely new area and adds several new mechanics to the game such as dyeing Geralt's armor, participating in a knight tourney, as well as a vast number of new weapons, pieces of armor and types of monsters.
Blood and Wine was met with universal acclaim from the fans and game critics and won several awards.
Hearts of Stone
Hearts of Stone expansion pack sees Geralt involved in a conflict between mysterious Gaunter O'Dimm, known as the Man of Glass and cursed nobleman Olgierd von Everec. The expansion pack takes place in the area of No Man's Land and features 10+ hours of gameplay, new gameplay mechanic of Runewords and Glyphwords, which allow the player to enchant their swords and armor to possess various bonuses, as well as new romantic interest for Geralt.
The expansion received positive reviews from critics and was well liked by the fans of the Witcher.
Items included in this bundle
The Witcher 3: Wild Hunt Game
Hearts of Stone expansion
Blood and Wine expansion
Release date: 2015-05-18
System requirements
Below are the minimum and recommended system specifications for The Witcher 3: Wild Hunt GOG.COM Key . Due to potential programming changes, the minimum system requirements for The Witcher 3: Wild Hunt GOG.COM Key may change over time.
Minimal requirements
Processor

Intel Core i5-2500K 3.3 GHz / AMD CPU Phenom II X4 940

Graphics

Nvidia GeForce GTX 660 / AMD Radeon HD 7870

Memory

6 GB RAM

Disk space

40 GB HD

System

Windows 7 / Windows 8 (8.1)

Other

64-bit OS
Recommended requirements
Processor

Intel Core i7 3770 3,4 GHz / AMD FX-8350 4 GHz

Graphics

Nvidia GeForce GTX 770 / AMD Radeon R9 290

Memory

8 GB RAM

Disk space

40 GB HD

System

Windows 7 / Windows 8 (8.1)
Languages
Chinese, Czech, German, Spanish, French, Italian, Japanese, Korean, Polish, Russian, English, Vietnamese
Contact us for more information.