Sea of Thieves
Product description
Sea of Thieves offers the essential pirate experience, from sailing and fighting to exploring and looting – everything you need to live the pirate life and become a legend in your own right. With no set roles, you have complete freedom to approach the world, and other players, however you choose.Whether you're voyaging as a group or sailing solo, you're bound to encounter other crews in this shared world adventure – but will they be friends or foes, and how will you respond?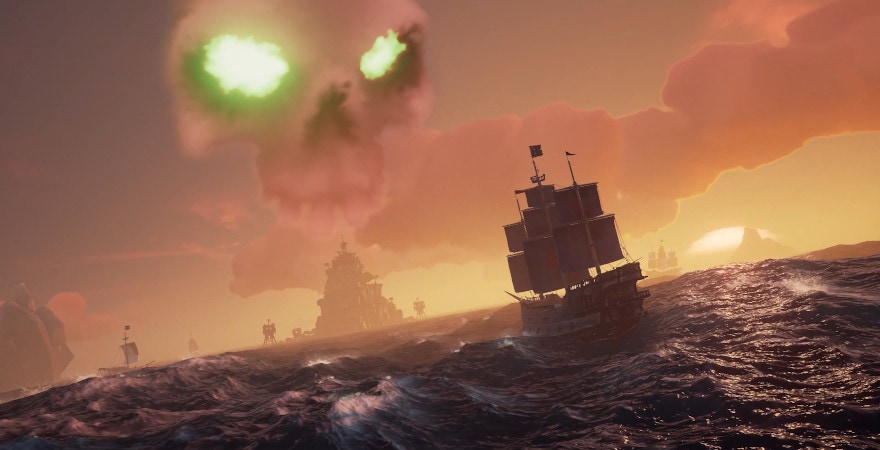 A Vast Open World
Explore a vast open world filled with unspoiled islands, sunken ships and mysterious artefacts. Take on quests to hunt for lost treasure, seek out cursed Skeleton Captains or gather valuable cargo for the Trading Companies. Go hunting and fishing or choose from hundreds of optional goals and side-quests.
Unforgettable stories
Play through the Tall Tales to experience Sea of Thieves' unique take on a story-driven campaign. With 11 tales to play through across two epic storylines, these immersive and cinematic quests provide around 30 hours of the ultimate pirate fantasy.
Become Legend
On your journey to become a Pirate Legend you'll amass loot, build a reputation and define a unique personal style with your hard-earned rewards. Adventurer. Explorer. Conqueror. What will your legend be?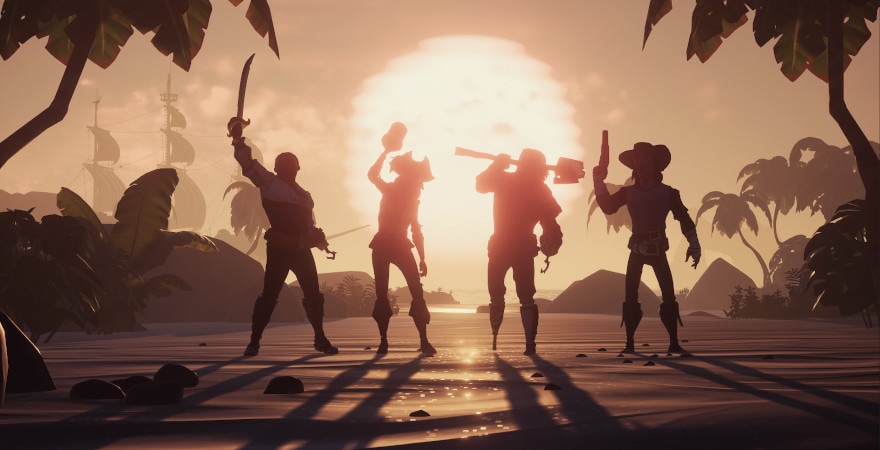 A Game That's Always Growing
With five major expansions and almost a year's worth of monthly updates, Sea of Thieves is a service-based game that is continually growing and evolving. Check back each month to see what new content has been added.
Key features
Sea of Thieves is an online cooperative action-adventure game set in a bright and colourful world of pirates, high seas and sea monsters. Seek treasures, fight skeletons, solve riddle, be a pirate legend.
Sea of Thieves features
Unique visual design – Sea of Thieves with its very appearance makes sure you know it's not treating itself too seriously. It's bright, colourful, and cartoon-like
Easy communication – SoT comes equipped with a proximity-based voice chat, to help you immerse yourself in the world and exchange choice words with your insubordinate crew
Monsters – whether it's the skeletons, faithfully guarding the lost treasures, or krakens attacking ships, other players and your own crew's incompetence aren't the only threats to watch out for
Extensive customisation – peg legs, eyepatches, moustache, scarves, bandanas and everything else you imagine a pirate would wear are available to the sailors who have gained enough gold
Sea shanties – pick an instrument and play, the more of your crewmates join in, the more melodious your music will be, throw in a voice-chat singing and you're in for an immersive nautical experience
Release date: 2020-06-03
System requirements
Below are the minimum and recommended system specifications for Sea of Thieves (PC) – Steam Gift. Due to potential programming changes, the minimum system requirements for Sea of Thieves (PC) – Steam Gift may change over time.
Minimal requirements
Processor

Intel Q9450 @ 2.6GHz or AMD Phenom II X6 @ 3.3 GHz

Graphics

Nvidia GeForce GTX 650 or AMD Radeon 7750

Memory

4 GB RAM

Disk space

50 GB available space

System

Windows 10
Recommended requirements
Processor

Intel i5 4690 @ 3.5GHz or AMD FX-8150 @ 3.6 GHz

Graphics

Nvidia GeForce GTX 770 or AMD Radeon R9 380x

Memory

8 GB RAM

Disk space

50 GB available space

System

Windows 10