MORDHAU
Product description
MORDHAU is a multiplayer medieval slasher video game developed and published by Triternion in 2019. It focuses on a fast-paced player versus player skill-based combat, where it's important to utilize different tactics to succeed. The game runs on Unreal Engine 4 and is available on PC (Windows).
Gameplay and combat
MORDHAU is played from the third- and first-person perspective. The core of the gameplay is fighting other characters in close combat, but fighting is not limited to melee. Players may also use bows or crossbows to take opponents out from a safe distance, set up traps to surprise unaware enemies, charge on a horse to break through enemy defenses or man siege machines in form of catapults and ballistae.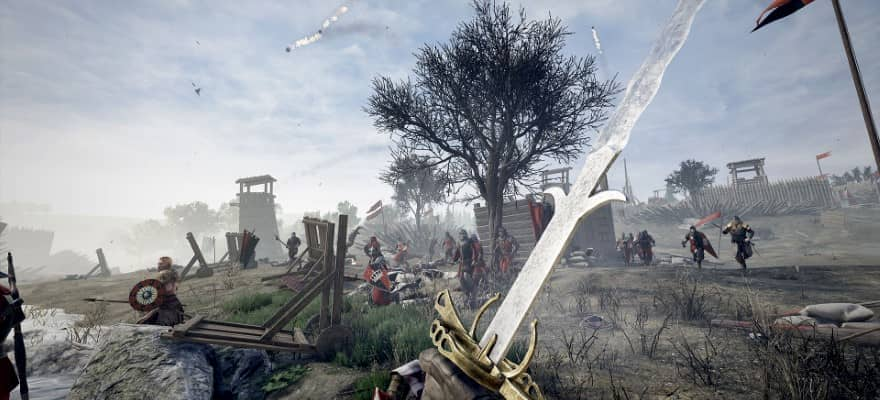 The game is known for its advanced combat mechanics, which allows, for example, to pick up an axe someone threw at us, or to kick down the doors, knocking over enemies standing right behind it.
Implemented mechanics sometimes yield unexpected and funny results, like the possibility to destroy catapult boulders by shooting arrows at them. There is also a taunting option to make gestures at enemies and show off your confidence.
Combat requires a careful approach, as the game uses a friendly fire system. This means you can accidentally hit and kill your teammates.
Custom classes and lots of cosmetic options
MORDHAU doesn't feature typical character classes. Instead, you are given 16 points which you can spend on whatever items or perks you want to use in the game, thus allowing you to create your very own class.
Decide yourself if it's worth to spend more points on taking heavier armor, providing more defense at the cost of mobility, or maybe taking cheaper light armor will suffice.
Make some compromises here and there to save some points and spend them on a better weapon, or invest them in one of the game-changing perks, like the bloodlust, which replenishes your health after killing an enemy.
Or take the lute and play music on the battlefield by loading MIDI files into the third-party software.
The choice is yours – spend your 16 points wisely.
Additionally, you are able to customize the look of your character – virtually any part of armor can have its look adjusted to your liking. This includes even the patterns on some of the clothing, as well as the adjustable colors on most of the armor pieces. Furthermore, weapons can also be customized. For example, you can change shafts, guards, and blades of your 2-hand sword to make it look unique.
Available game modes
The game puts emphasis on multiplayer, with the possibility to battle against computer-controlled opponents, though the latter option doesn't reward players any gold or experience. If one wishes to play against bots and still earn rewards, he may consider playing the Horde mode, where players are teamed together to fight waves of NPC invaders.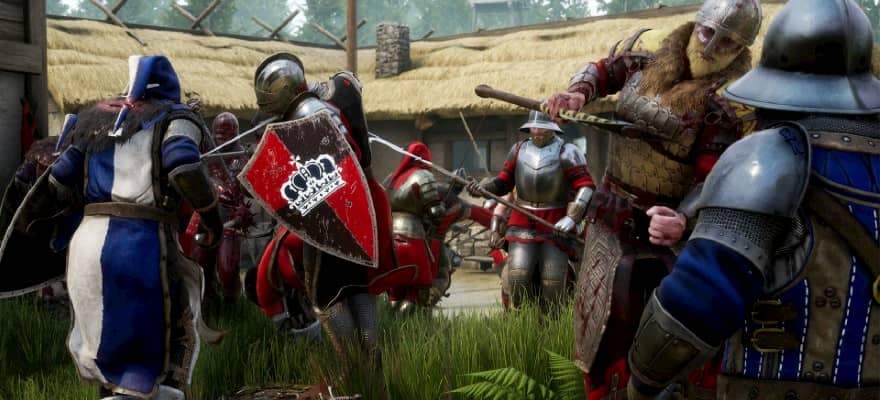 Other modes include Frontline, where players join one of the two 32-member opposing teams and fight a large-scale battle with the objective being depleting enemy team points from 1000 to 0, Deathmatch, where players can instantly respawn after being killed and the one with the largest number of kills wins, and Battle Royale, where everyone starts in a random location and have to loot equipment, kill other participants and remain the last man standing inside the shrinking playable area.
Reception
MORDHAU (PC) received very positive reviews with reviewers praising the incredibly satisfying, fluid, and deep melee combat. Players enjoyed the presence of a multitude of different weapons and armors, as well as cosmetics, with the possibility to acquire most of the items with the in-game currency earned through playing matches. The seemingly unlimited options of loadout customization were also positively noted.
Key features
Control one of the characters and fight alongside other players in the large-scale medieval 32v32 battles
Define your own character class by choosing the type of equipment and perks you will use in battle
Design your own weapon – choose one of the many basic weapon types and select from different handles, shafts, guards, and blades to create the weapon you can truly call your own
Engage in a bloody war and master all the tactics to succeed – make use of horses, siege machines, traps, ladders, and more
Beware of friendly fire – aim your strikes carefully to avoid hitting your teammates
Release date: 2019-04-29
System requirements
Below are the minimum and recommended system specifications for MORDHAU Steam Key GLOBAL. Due to potential programming changes, the minimum system requirements for MORDHAU Steam Key GLOBAL may change over time.
Minimal requirements
Processor

Intel Core i5 – 4670 or AMD equivalent

Graphics

NVIDIA GTX 680 or AMD equivalent

Memory

8 GB RAM

Disk space

20 GB available space

System

Windows 7 64 Bit, Windows 8 64 Bit, Windows 10 64 Bit

Other

directx: Version 11
Recommended requirements
Processor

Intel Core i5 – 6600k or AMD equivalent

Graphics

NVIDIA GTX 1060 or AMD equivalent

Memory

16 GB RAM

Disk space

20 GB available space

System

Windows 7 64 Bit, Windows 8 64 Bit, Windows 10 64 Bit