Betheme Responsive Multipurpose WordPress and WooCommerce Theme
Full WordPress 5.8 compatibility
Full Elementor and Elementor Pro compatibility
Full WooCommerce 6.0 compatibility
GDPR Ready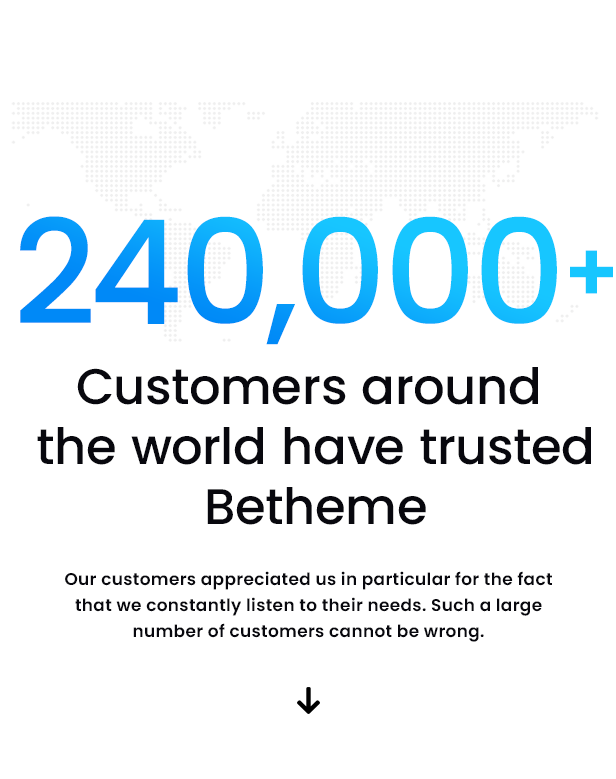 Betheme is the best product we ever did. This is more than just WordPress theme. Such advanced Theme Options panel and the Muffin Builder tool give unlimited possibilities. To show you how theme works, we have created 650+ thematic websites so you can see how amazing this product is.
It can not be described with any words. You must see it!

Betheme is full of different pre-built websites so you can easily import any demo website within seconds at 1 click. Constantly we add new demos at users requests.
So far we created websites for: electric, veterinarian, loan agency, charity agency, sitter, moving company, barber, health magazine, book writer, plumber, art agency, interior design company, webmaster, application, seo agency, university, event company, developer, car rental, band, gym, designer, marketing agency, hosting company, travel agency, real estate company, photographer, renovator, small business company, hotel, mechanic, lawyer, school, shop and much more.
If you have own idea for great homepage, please do not hestitate and tell us about that. We consider all your ideas!
650+ pre-built websites

To help all our customers we already started with the Support Center. It`s main advantage is the ability to easily search all the content and adding attachments. Before add a post on forum you need to register (Item Purchase Code is necessary).
We offer support for our customers Monday – Friday: 8 AM – 6 PM (GMT +1) – we are located in Europe. We reply on all questions within 24 hours (forums, tickets, private messages).
If you have any problems with registration please use contact form in right bottom section of our profile. We inform also that we`re not replying on support question in comments.
Support Center: https://support.muffingroup.com/
Contactez-nous pour avoir plus d'informations.